So as you will know from previous Log entries, my friends Marcus and Mike have a band called Harbron. Mike works for The Chrysalis Group. Chrysalis is a real force in music. It was Chrysalis that signed Blondie, Jethro Tull and Skinhead O'Conner. They also have artists like Outkast, Moloko and Feeder on their books. So they are one of the world most successful and significant "Indie" Labels around. Clearly when they were arranging their annual Charity bash they wanted a representative from seminal bands like "Sideburner" to be in attendance - so I had an invitation.
The event was hosted by Iain Lee who you might know from the Channel 4's The 11 o'clock show and various game shows. Here is a photo of him being irreverent. He was very funny but had a potty mouth. Tsk.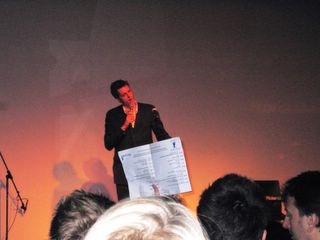 There were loads of acts. It was kinda like Buttlins for the cool, many Chysalis employees having a turn. Chris Wright is the Chairman of the group and he was the guy who signed Blondie. So clearly he is a GOD. But what a good sport, he took part in a spoof of what receptionists get up to. He is the guy in the bad brunette wig.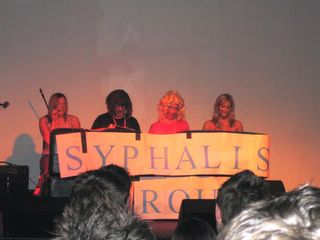 This is what Chris really looks like. You might think - hang on - he looked better in the wig. Maybe so - but did you sign Blondie? 'Nuff Said.
This is Mike and Marcus wooing the crowd. I was in that crowd so I know they went down really well. Cheering for more is always a good clue :0)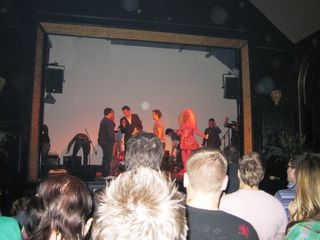 The Judges decided that Harbron deserved an award. So they went up to meet Iain Lee to get their prize. Good work fellas.