So I'm making a flying visit to Scotland tomorrow to remind a University why Lotus Notes is the collaborative solution of choice.
But unusually for me, I do have a critisism of Notes - or more specifically Scottish bank notes. To put it plainly, they are rubbish.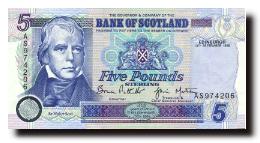 Whilst Scottish folks are perfectly happy to accept English notes in Scotland, you trying spending Scottish notes in England. More specifically in South West London. Last time I presented one in my local pub the landlord said he would normally not accept them because as far as he is concerned, "they may as well be Monopoly money". In fairness to him he did accept it due to my honest face and fine standing in the community (or more likely because he knew where I lived if it was forged). I'm saving trying to spend real Monopoly money there until I'm really desperate.
Anyway - the point is that now 12 European countries, with numerous languages and cultures, can share a single set of transferable bank notes with no problems. Yet we can't sort it out with our next door neighbour in what is officially the same country. Perhaps not such a United Kingdom?