So Marcus, Ellen, Ali and I decided that we would make a day of going to the Beautiful Losers gig. First stop was TGI Fridays in Leicester Square for a few cocktails. This is a nice shot of Mr Ports supping a Long Island Iced Tea.
And this is Marcus trying to pretend he isn't really holding a big girly drink (although it did have Jack Daniels in so I guess is has some vestige of maleness).
After plenty of cocktails it was off to China Town for Set Meal C for four at the fine Lee Ho Fook restaurant. Whilst the food was excellent, especially the crispy duck, we selected the restaurant for the comedy name.
For such a prestigious venue, The Boarderline has a surprisingly small stage. It's also nice to know that the owners haven't squandered their money on decoration :-(
Here is Lightning Tom appreciating the sonic magnificence of The Losers.
Perhaps the cocktails have now kicked in because after The Losers come of stage Marcus and I become very happy. At about midnight The Boarderline turns into a rather excellent night club mainly playing late eighties/early nineties Indie music.
We finally returned home at about 2am after a great time.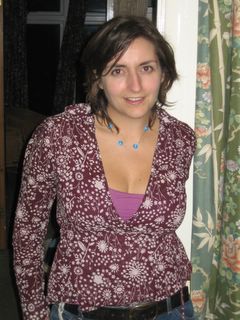 Ali sensibly went to bed whilst I stayed up to watch the Australian Grand Prix. In retrospect, Ali had it right because the race wasn't very interesting for a Jenson Button fan like me. Although it was good to see rhombus headed David Coulthard coming in 4th in the first race for Red Bull and better still for a certain Michael Shumacher not scoring a point.